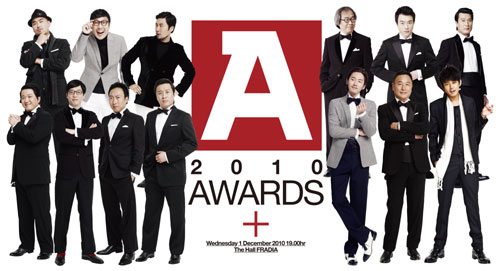 The team from MBC's entertainment program 'Infinity Challenge,' actors Jang Hyuk and Yoo Ah In, and others have been chosen as 2010′s top 'Black Collar Workers.'


On the 30th, fashion magazine Arena Homme Plus reported that the 'Infinity Challenge' team, actors Jang Hyuk and Yoo Ah In, soccer coach Huh Jeong Mu, movie director Ryu Seung Wan, architect Seung Hyo Sang, and Mnet representative Park Kwang Won had been selected by Arena Homme Plus and Audi Korea as 2010′s top 'Black Collar Workers' for the 5th annual A-Awards.

This year, the winners will grace the pages of Arena Homme Plus's January 2011 issue, and each winner will also have an individual photo spread.

This year, the 5th A-Awards received nominations from various fields, including culture, art, fashion, publishing, and sports. The first round of candidates were stringently vetted by an internal committee before the final group of winners was selected.

Arena announced that a 'Black Collar Worker' is someone who strives to give his utmost in his field, knows how to take care of his family and spend his leisure time [well], has a sense of duty toward society, is not lazy, and knows how to cultivate both his inside character and outside appearance. [In short], he is a true man of this generation.

The awards ceremony will take place on December 1st at 7PM at Seoul's Han River Park Jamwon District's Fradia.

All of this year's winner's, as well as last year's winners movie director Park Chan Wook, designer Song Ji Oh, singer Tiger JK, and MBC PD Kim Tae Ho are expected to attend.

This year's winners will donate 14 million KRW [~$12,000 USD] to the Seoul Cinémathèque Private Theater Steering Committee to support the construction of a theater exclusively for the showing of art films.



——————————————————————–
Hang on a sec! Here's an explanation for those who aren't familiar with the Arena Awards.
Explanation of the Arena Awards
"The Arena-Audi A-Award chose Korea's top Black Collar Workers by soliciting nominations for the top leaders in the economy, culture, fashion, publishing, and other fields. Through a rigorous internal screening process, the final eight men were selected.
Moving away from the terms 'white-collar worker' and 'blue-collar worker,' the new phrase 'Black Collar Worker' indicates a man who does his absolute best in his field, is upright in his style, knowledge, and emotions; in other words, a true man of this generation who knows how to cultivate both his inside and outside self."
<2009 winners>
Leadership: Movie director Park Chan Wook
Charisma: Baseball athlete Chu Shin Soo
Intelligence: Infinity Challenge PD Kim Tae Ho
Innovation: Psychiatrist/representative of classical music distributor Pungwoldang Park Jong Ho
Confidence: Professional golfer Yang Yong Eun
Creativity: Designer Song Ji Oh
Passion: Singer Tiger JK
Style: Actor Lee Byung Hun
<2008 winners>
Leadership: Doosan Bears coach Kim Kyung Moon
Charisma: Movie director Kim Ji Woon
Intelligence: Actor Ha Jung Woo
Innovation: Novelist Lee Weh Soo
Confidence: Chuncheon Mime Festival Art Director Yoo Jin Kyu
Creativity: Fashion designer Jung Ok Joon
Passion: aA design museum representative Kim Myung Han
Style: Singer G-Dragon (Kwon Ji Yong)
Looking at the past winners, you can really feel what an amazing award this is, can't you?^^
Source [winners' lists & all comments above]: Seider@Naver